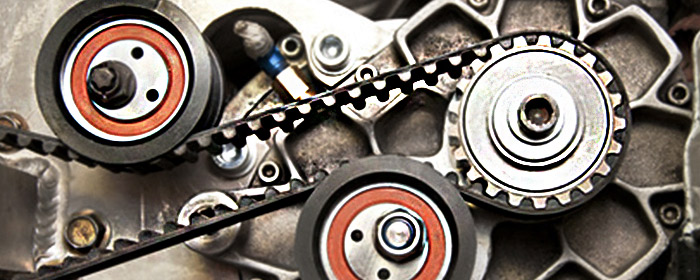 See offers
Timing Belt in Brandon, FL
What is a Timing Belt?
The timing belt is commonly situated at the front side of the auto's engine. The timing belt is also known as a cam belt or camshaft drive belt. Timing belts are ragged rubber belts used in the preponderance of vehicles on the road today. The timing belt energizes the camshaft and forces to move the regulators of the engine. Management of these parts guarantees the appropriate times of opening and closing of the engine valves and keeping the internal ignition of the engine.
The timing belt disruption can take place due to following reasons:
Oil impurity
Over shrinking of a replacement belt.
Hydraulic tensioner disruption
Water pumps bearings or clutched pulleys
Timeworn engine
Timing belt services in Brandon:
In Brandon, the timing belt services are accessible with the facility of the replacement of the Water pump, Tensioner pulleys, Idler pulleys and Hydraulic tensioners.
Our Certified Service Technicians at Ed Morse Cadillac Brandon can handle the replacement of the timing belt and is conveniently located near Tampa, Lakeland, Seffner and surrounding areas of West Florida. Pay no attention to the replacement of a timing belt as a part of planned care, could be the consequence in main engine disaster down the road.
Timing belts reactions to the different types of the engine:
There are two types of engines:
Interference engine
Non-interference engine
Interference engine:
If a timing belt disrupts while driving, in an interference engine, there is a decent chance that the engine might be rigorously smashed. The difference with the non- interference is that the regulators that are completely open will be hit by the piston as it moves to its top location.
Non-interference engine:
If a timing belt breakdowns, a non-interference locomotive will slow down, but the additional loss might be restricted. In a non-interference engine, there is quite some consent amongst completely open regulators and a piston in the top spot which is quite diverse with the interference engine.
What common signs indicate that you may require changing the Timing Belt?
There are different symbols which indicate that you vehicle engines need the replacement of the timing belt, some of the following are as follows:
Lack of power
Irregular noises coming from the timing belts area.>
If you are experiencing these issues, then you should take your car to our Certified Service Technicians and Schedule your Service Today
How significant is this service?
You should not delay for your timing belt to get to disruption stage, it must be repaired right away. If you are changing your timing belt, we suggest replacing all related part of the timing belt including:
Water pump
Tensioner pulleys
Idler pulleys
Hydraulic tensioners
Oil closures in the timing belt zone. So, you have to take the immediate actions for the timing belt to decrease any other disruptions of the engine.