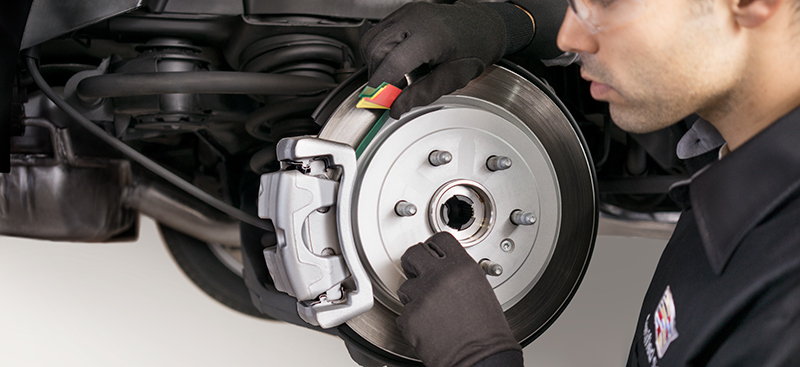 Save Money By Changing Your Brake Pads
Changing a brake pad isn't the easiest or toughest job out there. It stands somewhere in the middle. Here's a quick guide on how you can do it yourself.
Tools you'll need (You might not need all of them, but it's a good idea to have them all ready)
3/8″ Ratchet
1/2″ Ratchet
1/2″ Breaker Bar
3/8″ Assorted extensions
3/8″ Sockets, assorted
1/2″ Sockets, assorted
Open-ended wrenches, assorted
Torx sockets, assorted
Hex sockets, assorted
Reverse Torx sockets, assorted
C-Clamp
Hydraulic Jack
Jack Stands
Pry Bar
Wire Brush
Gloves
WD-40
Let's begin changing your brakes
1. Lift your car on a flat surface. A driveway or a concrete floor works best. You shouldn't be able to move your vehicle once it is on the jack stands. If you can move it, re-position the stands.
2. Loosen and remove the lug nuts and wheels. Spin each lug nut off with your fingers or a star wrench.
3. Inspect the brake rotors. If they look smooth, continue on but if you see a rough surface you might need to buy new rotors.
4. Remove the caliper hold-down bolts or pins.
5. Follow up by compressing the caliper hold-down bolts or pins. It is also a good idea to check your brake fluid reservoir to make sure it doesn't overflow when the fluid level begins to rise.
6. Mount the new brakes inside the brake caliper. Applying anti-seize or brake component lubricant to the sides of the pads will let the brake pads slide easily as the brake pad surface wears out over time.
7. Grease the braking system.
8. Follow up by reinstalling the caliper assembly.
9. Bleed the brakes. It is not necessary to bleed your brakes if you never cracked a bleeder screw.
10. Put the wheels back on and you're good to go.
It might take you a couple hours longer the first time around, but you'll be a seasoned pro in no time if you keep at it.
If a DIY is not your thing then visit Ed Morse Cadillac Brandon for a professional certified brake replacement today!. We are located in Brandon just minutes away from Bloomingdale, Mango, Seffner and surrounding areas. Visit our offers page for money saving brake coupons and many other specials.